8 ideas that will spice up your Valentine's Day
No matter how old you are or how long you've been together, Valentine's Day still has the tendency to bring out the romantic in everyone. This Tuesday on February 14, spend a day with your sweetheart or create a night to remember. With these 8 ideas to spice up your valentine's day what could possibly go wrong? Take it from a girl with high expectations in the romance department. Just try them and you'll thank me later.
1. Plan it out.
Don't wing it. Plan it. Make a list and check it off as the day goes by. Although, let your love one be surprised- don't show them the list.
"My idea of the perfect Valentine's date would certainly be a movies night and a simple dinner. Although to be honest, I don't really think it takes much to make me happy. I'm literally fine with McDonald's," Said Katrina Giang, Sophomore.
2. Strike a hike.
Take a hike and have a picnic at the very top. Bring water and sandwiches or whatever you two would enjoy!
"Here, you and your loved one get to spend quality time together," said Isaiah Apilando, Sophomore.
3. Be a basic beach
Don't just go to the beach. Add music, add lights, and add a small cozy bonfire. Bring lots of cushions and blankets, spread it across the bed of a truck or on the hills of the sand. Here, you'll enjoy the atmosphere, watch the sunset as the stars appear, and have fun with your favorite playlist. Don't be shy and talk. Reminisce about all the memories you two had. Tell them how you feel, likes or dislikes. This is a night to get to know each other a little more than you did before. Show them you care about their interests, hobbies, and feelings. You got this!
"She's amazing in every little way. She's smart, kind, gentle, beautiful, and smiles all the time," said Apilando.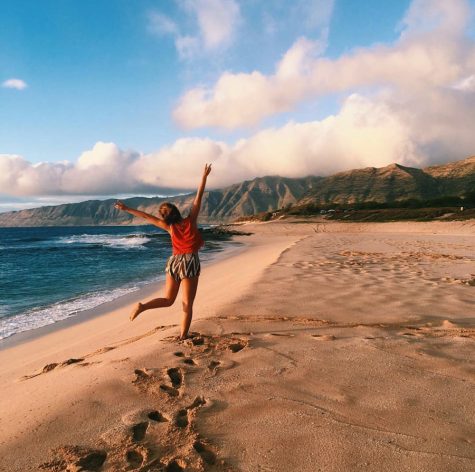 Kaui Leong
4. Netflix and chili
Pop open the scariest movies, or even the biggest can of chili. Make a blanket fort- three sticks, a rope, and a big blanket. Add popcorn. If you want to get fancy, add melted butter, furikake and mochi crunch. Mix it all together and we have the Hawaiian style Hurricane popcorn. For dinner, you can simply eat rice and chili or order a box of pizza but we're not trying to be the everyday basic netflix and chill. We're netflix and chili we don't need pizza. But overall, just have fun and watch continuous movies until you both pass out.
"A real night to remember," said Giang.
5. Roses are red
Treat your significant other like their the emperor or empress of a powerful kingdom. Bow down to them and seek for their every need. Buy them a tiara or even a crown. It doesn't need to be real. Make it yourself; Paper, pencil, markers and tape. Here's the plan! Go outside and tape 20 post-its around your neighborhood or even your backyard. In each of the 20 post-its, write a promise you will make to your dearest one. Create a treasure hunt. Let them find all the promises you've made and mean those promises. Give hints, lots of hints. Maybe create a little map to make it easier, and at the end of the day with the very last post-it at hand. Go upon one knee and present them with a single delicate rose and a gentle kiss on the cheek. Grasp their hand and gracefully glide them within your arms.
"There was this one time my boyfriend made a rose out of plastic. I thought it was cool because I love art and he loved art too. That's what we both had in common. A 3D DIY rose, it wasn't expensive but it made me love him even more." said, Kystassia Glover, sophomore
6. Ask out your candy crush.
You've been waiting for a day to ask out that special someone. Here, is the day! Go make a poster! Don't be introverted! Be fun, loving, and creative. Create a big poster, add bold letters, with a catchy theme. Don't go overboard, too much detail will throw off everything. Make it simple and chic. Add a single rose to symbolize your love for her/him. If they say, yes. Take them to dinner. 5 pm at your house.
"There was this one time my boyfriend made me pasta for dinner and it was great and I loved it," said Glover.
7. Go to the park.
Go to the park. Buy subway sandwiches. Set up a tent or blanket, grab a volleyball and play it out. Invite some friends, have some drinks (Juice, water, soda, etc.), propose with a matching ring, and sing along to Disney songs. It's like being a kid, again.
"I like simple, meaningful and loving dates," said Ceriah Gomes, sophomore.
8. Memories
With all the memories you two have made together over the past days, weeks, months, or years. Show them. Collage a bunch of photos and videos, take lots of pictures everywhere you go. Pictures are memories, save them when you can. Volunteer at an animal shelter, feed the homeless, donate to a charity. All these memories will bring a smile to anyone's face.
"It'll be great because, in the end, it's all the thought that went into the day, not the money," said Gomes.
XOXO.