NHIS graduate Chloe-Marie L. Stamm-Calotis receives TFA scholarship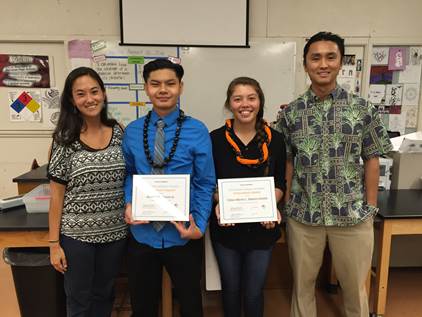 2016 NHIS graduate, Chloe-Marie L. Stamm-Calotis, received the $1000 Teach for America's Native Alliance Initiative scholarship award on August 15, 2016.
A 3.9 GPA student, Stamm-Calotis participated in National Honor Society, student council, and Anatomia. She will attend Grand Canyon University this fall to earn a bachelor of science in nursing, becoming the first member of her family to attend college.
Teach For America launched the Native Alliance Initiative (NAI) in 2010 to deepen its partnerships with Native communities across six states with significant Native student populations—communities that have been severely impacted by educational inequity. Today, the NAI is working with Native students and leaders in Hawai'i, New Mexico, Oklahoma, South Dakota, Minnesota, and Washington.
"I am incredibly honored and grateful to be receiving this scholarship," said Chloe-Marie Stamm-Calotis. "I know I can accomplish great things by attending college, but it was always a concern of how I would pay for it. With the help of this scholarship, my financial burden is reduced. The Native Alliance Initiative Scholarship is helping me do much more than just attend college: it is helping me follow my dreams and create a better life for myself. Through this scholarship, I am able to further my education and fulfill my lifelong dream of becoming a neonatal nurse."
"The Native Alliance Initiative is incredibly proud of both Chloe-Marie and Russell," said Robert Cook, Senior Managing Director of the NAI. "Given that many of our students in Native communities already face a wide range of adversity, our hope is that this scholarship will help to offset some of the financial burden of transitioning to college. The NAI is committed to supporting future leaders like Chloe-Marie and Russell as they become advocates for Native communities."
Teach For America–Hawai'i works in partnership with communities to expand educational opportunity for children facing the challenges of poverty. Founded in 2006 on O'ahu and 2009 on Hawai'i Island, Teach For America–Hawai'i recruits and develops a diverse corps of outstanding college graduates and professionals to make an initial two-year commitment to teach in high-need schools and become lifelong leaders in the movement to end educational inequity. Our broader mission is to enlist, develop, and mobilize as many as possible of our nation's most promising future leaders to grow and strengthen the movement for educational equity and excellence. As Teach For America–Hawai'i marks its 10th anniversary, the organization has had a profound impact in the islands by recruiting and developing more than 650 teachers over the last decade, many of whom are working across career sectors—including education, law, business, medicine, and government—to improve the opportunities of young people and fight for educational equity.