After-School-All-Stars Get Motiv8ed
Although the University of Hawaii Rainbow Warriors lost the game against the San Diego Aztecs on Saturday October 28 2017, spirits were still high from the students in the stands. A select group of students from the NHIS After-School-All-Stars program, got the opportunity to attend the UH Manoa football game, courtesy of Marcus Mariota's foundation Motiv8.
The Motiv8 foundation sponsored about 1,000 students, 500 of which came from various After-School-All-Stars programs on Oahu.
"We are very fortunate, we have kids from After-School-All-Stars, Boys and Girls Club, Special Olympics, and Big Brothers and Big Sisters programs here in Hawaii," said NFL Football player and foundation head Marcus Mariota.
Students that were able to attend were grateful for the experience and hope for more opportunities like these in the future.
"I loved having the opportunity to go to the Aloha Stadium and have so much fun. My favorite part was when we started the wave and it didn't stop. I hope in the future all after-school programs such as All-Stars give kids the chance to experience what I had," said eighth grader Sammy Kea.
"I felt happy because Marcus did something good for all these kids to show how much he cares about them," said student Kihani Cavaco-Johnasen.
Not only did students enjoy the game itself, they also took home some valuable lessons that will stick with them through every day life.
"It changed my attitude because if you want to participate in any activity you have to be on your best behavior," said eighth grader Kalai Kahaleanu.
"It changed me and now I work even harder at basketball, because I saw how hard those football players work," said Cavaco-Johnasen.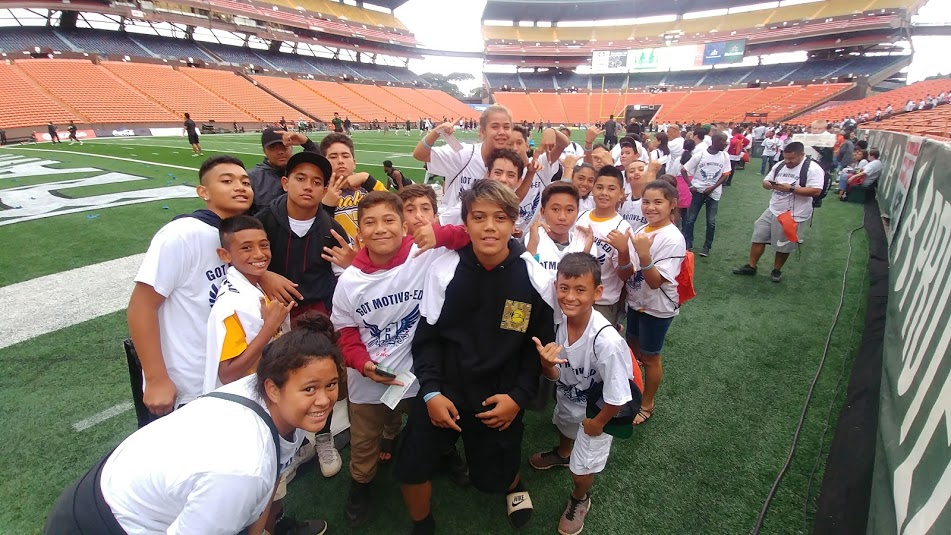 "It changed my life to play harder in football and to get better grades so I can play at UH and graduate from there or UNLV," said eighth grader Kextyn-Logan Cafa.