Girls Varsity and JV Volleyball Bring Home Championships
The NHIS Girl's Volleyball teams brought home not one but two OIA Girl's Division II Championships. On October 18, the Varsity Girl's Volleyball team swept Pearl City 25-11, 25-16, 25-16 at McKinley's Student Council Gymnasium.
Days earlier on October 11, the JV Girl's Volleyball team beat Kaiser 21-19, 21-19 to win the JV OIA Division II Championship.
The wins were a refreshing accomplishment as there has not been a team in the championships in a many years.
"It feels great honestly, I really don't have a lot of words for it. The last time I was in the championship as a team was when I was sixth grade and we won the state championship for baseball. So it's been awhile for me, but I definitely know what the girls are going through in terms of being excited," said Varsity coach Junius Wong.
A factor in the team winning the championship was by taking things one step at a time.
Wong said, "They were real focused on each play. They were focused on each point. Not really focused on winning the set, just really focused on winning each point first."
"To be a champion it feels great, it's very humbling and I couldn't have done it without the support from my family and the community," said Senior Janae Odom.
The ultimate goal is to continue to win in the upcoming games.
Wong said, "Our next goal is to compete in the states and hopefully take home a state championship."
The Varsity will play again in their first round of the State Playoff on October 28 at 5:00 pm.
Not only did the Varsity bring home an OIA Division II Championship title, the Junior Varsity team also brought home a championship.
"The JV girls are extremely excited by the fact that they are now champions. They get to have their championship photograph placed in the gym, in the display case, which they are very very happy about. And the main goal is for them to train to become varsity players," said Junior Varsity coach Jeff Uyemura-Reyes.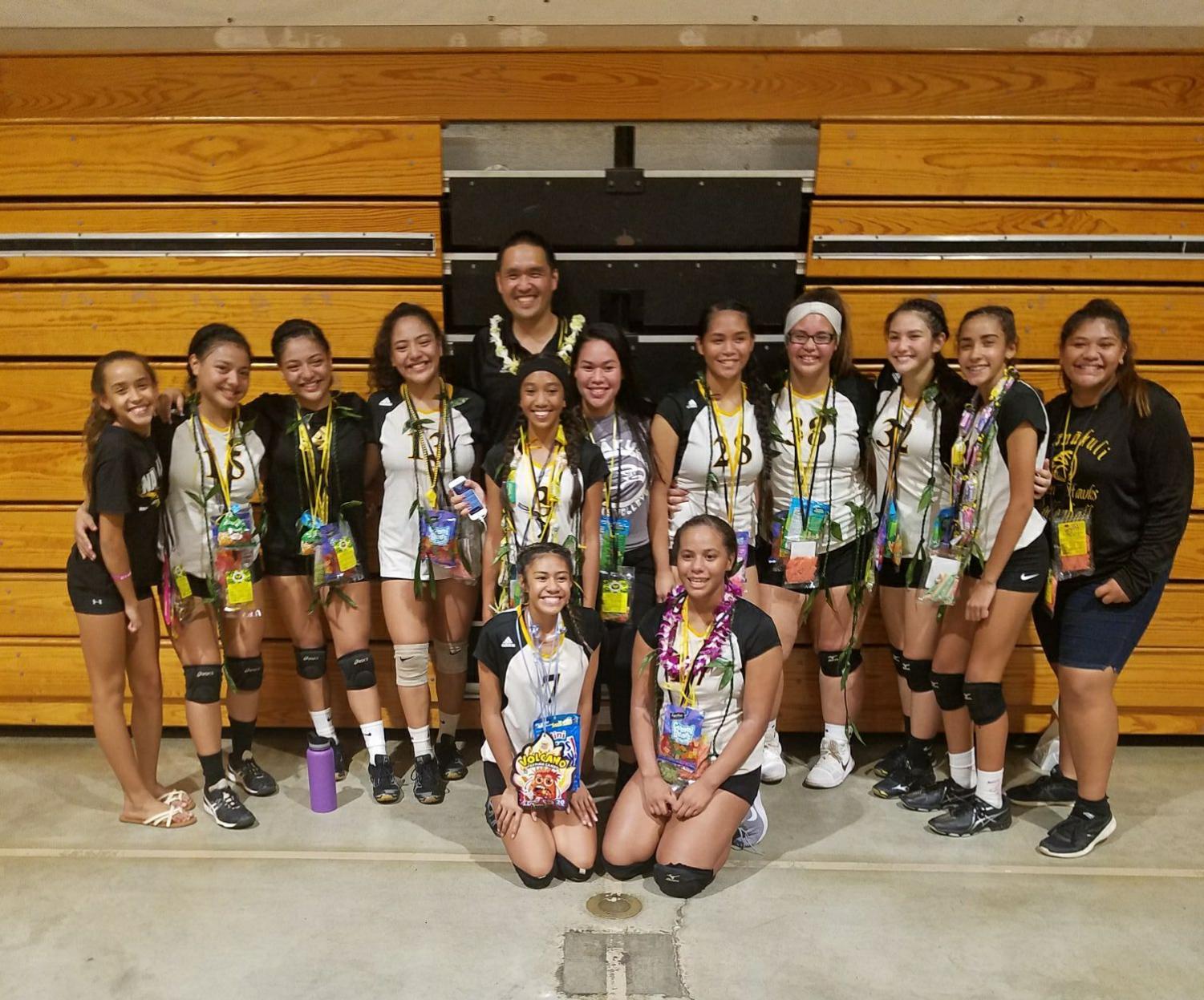 The mindset for the JV team was to just enjoy playing and with that the wins eventually came along.
Uyemura-Reyes said, "They started off the season with the idea that all they wanted to do was just have fun. As we started to win, they liked this idea of winning and they worked very very hard to continue to be able to win volleyball games."
The wins for both of the teams came along with hard work during the summer.
"At the beginning of the summer we started our training program, where our girls had to come in and run a total of 25 miles over the course of the summer and our girls came in and were complaining and unhappy about this development, our new strategy of conditioning hard over the summer. And they didn't think it was very fun. In hindsight, now that we have found success and won, they appreciate that they were in such good shape, that we were more skilled in certain areas than other teams," said Uyemura-Reyes.
Some players feel that this win came by taking things slow.
Moanikeala Paz-Powell Freshman said, "It makes me learn to appreciate the little things and take everything step by step."
The players feel like they won because they had a purpose other than winning.
Paz-Powell said, "I think my team won the championship because we had a purpose. We loved each other and all had a motivation."
The overall goal for the JV players is to move up to the Varsity team.
"Our goal always is for our Junior Varsity players to prepare themselves within the next year or two to make it onto the varsity roster. Our varsity obviously has done very well this year, and our goal is to continue to feed the pipeline to make sure our junior varsity girls are able to come in their sophomore/junior year into the varsity program and to be ready to start and play and contribute to an excellent program," said Uyemura-Reyes.