NPAC Takes the Stage on Broadway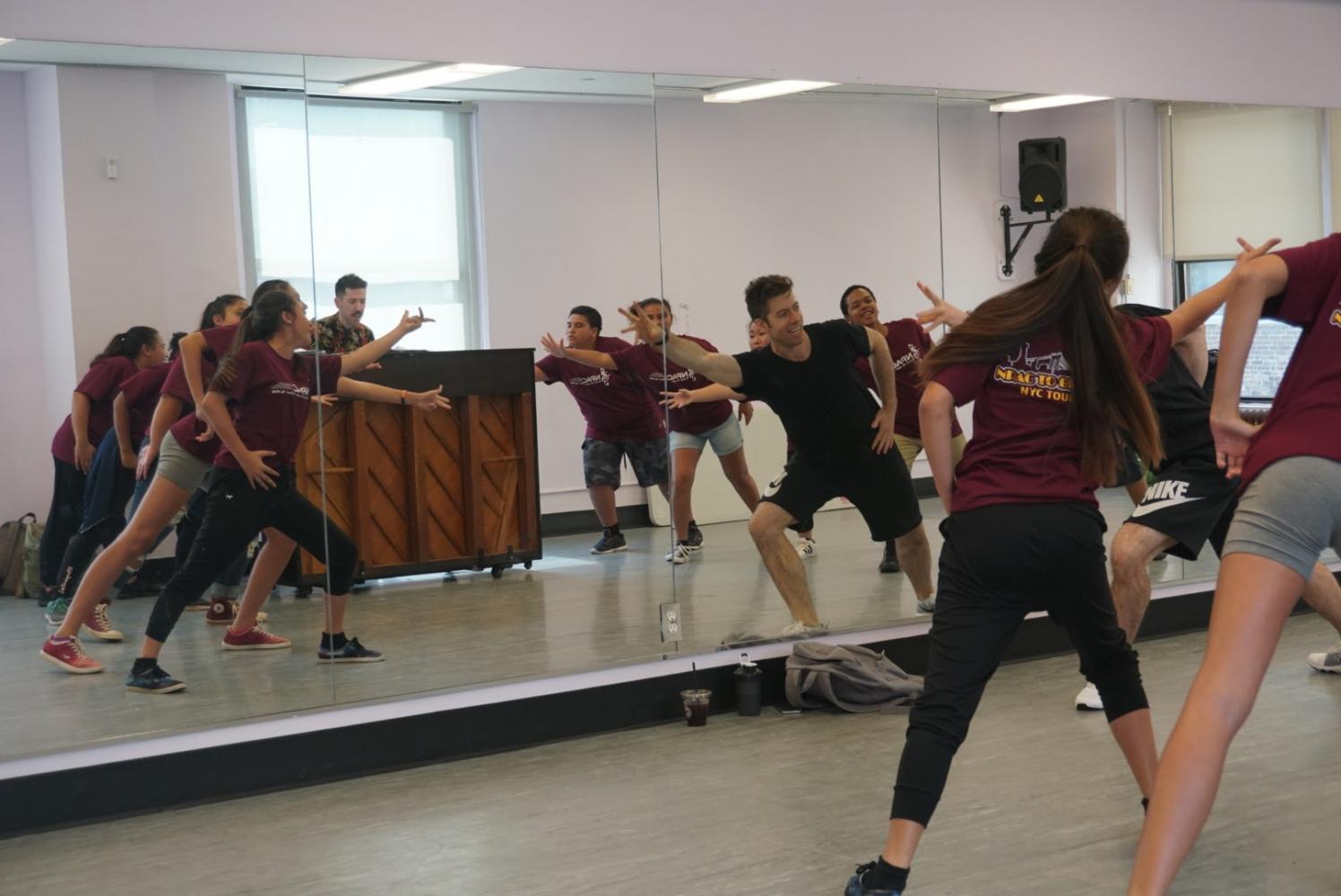 "Feed your passion with ambition, hard work, determination, and say hello to Broadway," said Ethan Hoppe-Cruz, Nanakuli High and Intermediate School Performing Arts Center (NPAC) student about his experience in New York City from July 8 to 11.
NPAC took nine students, two chaperones, and five parents and spent a week in New York City participating in a Broadway workshop, seeing three Broadway shows, touring three colleges, and experiencing the cultural sites of NYC.
Throughout the trip, students gained advice on how to keep at their craft and to be themselves as well as learn what it would be like to live in the city that never sleeps.
Alysia Kepaa, student, said, "I have learned that there will be people that are going to tell you, you can't do this, it's dumb, or you're not fit to get the part, but you always have to keep on doing what you love to do."
"We were told that while at the auditions we need to be ourselves. I would have never thought that because when you're acting, you are portraying someone else," said, An'Gellique Kaeo, student.
The group spent a year planning and raising money for this dream trip. For some of the students, the excitement began when they arrived at the airport. Tears streamed down their faces as they realized they would actually be going to NYC.
"For me, the main highlight of the trip was being able to see the students reaction. From the moment we boarded the plane from Hawaii, seeing the excitement on their faces. Even the moment we started landing in Newark, how it brought tears to the students' eyes. For many of them, it was a dream come true to go to New York. I'm very blessed that I could be a part of their experience," said, Danell Casuga, alumni chaperone.
It was a packed itinerary as students participated in a Broadway song and dance workshop led by Sam Strasfeld who is in the show, "Miss Saigon."
"I was proud of the students in the workshop as they learned a song they did not know and then learned the choreography and put it all together. Sam and Jeffrey (the piano accompanist) commented that the group was vocally stronger than larger groups they worked with and that they could pick up the choreography pretty fast and so Sam added even more moves to the routine," said Robin Kitsu, NPAC director.
The group saw the musicals, "Waitress," "Kinky Boots," and "Miss Saigon." They also got to meet cast members backstage after the show of "Waitress" and "Kinky Boots" thanks to the efforts of NPAC mentor and Tony nominated actress, Loretta Ables Sayre. The group also had dinner with Strasfeld and Lina Lee from "Miss Saigon" and got to meet cast members outside after the show.
"The Broadway show Kinky Boots was another highlight for me. Okay, that was a night to remember for me. Not only did I enjoy the show, but I, Brandy Senas, was in the same building as Brendon Urie. I practically inhaled the air he was exhaling," said Brandy Senas, student and Brendon Urie fan.
Casuga said, "The students were also given the opportunity to go onto a Broadway stage and meet different cast members. They were given the opportunity to talk story and ask questions of the cast members. I strongly feel that it has benefited them because now they now know that everything that NPAC is teaching them, it's the same thing that Broadway performers have to go through. The learning process, constantly repeating a show or even a practicing a number, it's all the same."
Throughout the week students also were able to visit NYU, Juilliard, and Columbia University.
"Both the NYU and Juilliard tours really opened my eyes to my options, and I honestly see myself going to either one," said, Brandy Senas, student.
Kylie Butler, student, said, "I feel that being able to see the [Juilliard] campus and meet one of the students really lets you have a good feel of what school there will be like. For me it was incredible, the amount of passion I have for the arts is unexplainable."
The trip showed the students a world outside of Hawaii and exposed them more to the industry performing arts.
"I think number one, they benefitted by being exposed to a different environment and culture, in terms of the city life, and even with interacting with Broadway performers who do what they hope to do or what the students are doing for a living," said, Kitsu.
The group also took a city bus tour and visited several city sites. The 9/11 Memorial Museum was a highlight for all who went on the trip.
"9-11 Memorial Museum was filled with history and facts about the tragic terrorist attacks of the Twin Towers and Pentagon. The whole experience was very somber yet really interesting," said, Hoppe-Cruz.
Butler said, "As soon as you walk in you just get this feeling of sorrow however forgiveness. I personally didn't know anyone who has passed in 9/11; however, it was very touching."
Kaiolohia Beaver, student, said,"My favorite activity of all is when we went to Ellen's Stardust Diner. I thought it was amazing to see your own waitress sing one of your favorite Broadway songs; I was amazed at how talented they were."
The trip helped students put their futures into perspective.
"I'm so grateful that I got this opportunity to experience everything that I did, and not only was it fun, but it was very educational, and since I'm an upcoming junior I have to be looking for colleges now," said Senas.
"During the trip, we saw a lot of things that were related to the performing arts, and that made me more interested and now I know, I want to pursue the performing arts after I get out of high school," said Kepaa.
Even the parent group saw the benefits of the trip for the students but in other ways besides college and career goals.
"This trip has much benefited her, an experience of knowledge, responsibility, dedication, respect, and awareness; just having fun and enjoying the company she's with and others around her. I loved and enjoyed seeing the excitement and joy on her face, but also her caring and thoughtfulness for others," said, Rayne Kauhi, Alysia Kepaaʻs grandmother.
The students who went on this trip will be forever grateful for the experience.
"I'm very thankful for this opportunity I was given. I would like to thank everyone who allowed me to have this amazing opportunity and all the amazing people I got to meet along the way," said, Butler.
The following are links to more photos and summaries of NPAC's NYC Tour:
THE RIDE/ELLEN'S STARDUST DINER LINK
SCHOOLS/SITES/FOOD/BOLLYWOOD LINK