What Happens in Vegas, Stays in NHIS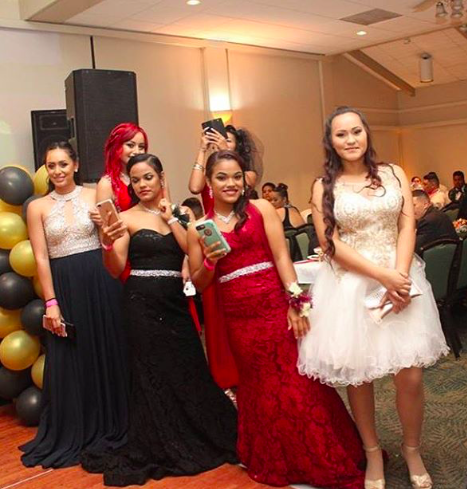 Custom lighting displays, floor length gowns, sleek tuxedos, limos, various photography, a D.J., an energetic emcee, a showgirl show, and lots of dancing could only add up to one thing for Nanakuli High School students, and that thing is the Nanakuli High School 2017 Junior Senior Prom.
On Friday March 24, 2017, the students as well as their guests pulled out all the stops at the Pearl Country Club with a "Casino Night" theme.
The flashy night started off around 5pm with students pulling up curbside to a red carpet entrance, complete with awaiting paparazzi, a sight you'd only see on any typical night at the MGM Grand located in the heart of Vegas.
Just steps away from that entrance was a much more traditional photo setup with silky backdrops and, just beyond on that point, located on the balcony, was an unlimited photobooth with a vast variety of props and poses for prom goers to choose from thanks to the Pacific Photo Company. Pacific Photo also provided candid photographers throughout the night.
As students made their way past the photography sections and into the hall, a custom monogram was displayed on the ceiling while each individual table was seen covered in chocolate coins and other decorative pieces which was later learned to be some of the give away prizes for games later that night.
While waiting for the rest of the prom goers to arrive, students were allowed to roam around until they found a table to their liking and enjoyed some light refreshments on the balcony at the "Open Bar" which featured a variety of martini glass parfaits and other chocolate treats.
At 6 pm it was Senior student Taaliyah La'a who blessed the food as well as the overall night. The prime rib buffet was then open to all prom goers. And although the buffet comprised of an extensive salad bar, multiple starches and a few choices of meats, the buffet was slightly garnished with a few mixed reviews. Senior Kawena Acosta-Mendoza said, "I enjoyed it a lot, but I do wish there was a little more variety."
But the food definitely didn't stall the momentum of the night as 20Twenty took to the stage. Also being from Nanakuli, 20Twenty gave prom goers positive vibes through musical nostalgia playing songs like "Sweet Darling" originally by local favorite Fiji.
However the mini showgirl show in the middle of 20Twenty's set stole everyone's attention at the Country Club. The show started with a comedic musical routine by Leila Del Rey, right after Leila finished "Love On The Brain" was lip-synced by the one and only Marina Del Rey, which was then followed by an explosive Beyonce Medley by Alara Deschanel which got most of the students on their feet cheering for more. "I think it was pretty awesome, it got everybody in the mood to party," said Acosta-Mendoza.
Dinner entertainment was then followed by games like "Gimmie-gimie" and the announcement of the Prom Court.
Junior Prom King was Lynold Tuiloma and Junior Prom Queen went to Mia Kaaukai-Ranis. Senior Prom King went to Chyson Ho'opai and Senior Prom Queen was given to Kacey Maku'e.
After the court and hoss selections were announced, mixes provided by DJ Sunny Ulep Ramos kept an upbeat playlist for most of the night on the small but lively dance floor until he slowed things down with Ariana Grande and John Legends version of "Beauty and the Beast" and a bit of Ed Sheeran.
Throughout the whole duration of prom night stunning lighting visuals were provided by Hawaii Events Unlimited, while Nanakuli's own Kaumuela Kauhane who co-advises the Junior class emceed.
When all was said and done, each prom goer went home with many pictures along with their own monogrammed glass favor to remember the unique casino night experience.
Upon reflecting on the night's events, there were a few things some students as well as advisors thought could be improved for next year.
Many students believed searching for a location which would provide a more spacious dance floor is a necessity.
Senior class president Kristopher Seumanutafa-Noa said, "I'd say finding a bigger place for a bigger dance floor would be a great way to improve prom."
And in terms of theme, being mindful of artistic choices so all students can enjoy the night is something the committee should consider.
Senior, Dustin Egami, said, "Although a lot of people enjoyed the show girl show, I gotta say I was a little uncomfortable, but overall I appreciate all the entertainment."
However, there were others who thought other aspects such as overall budget would be a great thing to focus on.
For example some people believed it was cheaper to go to a Country Club instead of renting a hotel in Waikiki.
Junior Co-advisor, Jackie Ku, said, "It was much more affordable to go to a Country Club then rent out a hall at a hotel in Waikiki." The money saved went toward the food and entertainment.
So for next year's prom process of planning, Senior class head advisor, Charlene Watson, has one word of advice, "Get involved – (Prom) It is important because it's a night to celebrate the end of the year, it's a night to bond with classmates, but more importantly it's a night all about you."