New portables kick off the year with a cool welcome for students and teachers
New portables are being put into use cooling off students and creating new beginnings this school year.
Last year the construction on the portables began in two different locations on campus.
One location is between E and D building while the other location is between E and C building.
Darin Pilialoha, NHIS Principal, said that the portables took about a year and half to be built since the project started.
According to Pilialoha, the portables were not used last year because of an issue with the permits but was used this school year because there was a need of space for teachers.
Some students like the new portables like 10th grade NHIS student, Diamond Turner, "The new portables are great because there's A.C. and it's bigger and cleaner."
The new portables come with air conditioning, new furniture, and some come with a bathroom/shower and an office.
Some of the portables were already being reserved while the rest were open to teachers although a lot of teachers didn't want to change classrooms.
Pilialoha said, "Some of the teachers were comfortable where they were at before and they didn't want to move."
Some teachers found it difficult moving.
"It was hard because I was in P-5, the one in the parking lot and I had to move all my stuff over here. I've been teaching for so long you know, a lot of stuff," said Rachelle Sylva, FAC for 7-12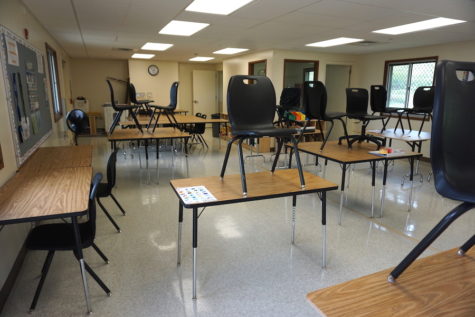 "I love it. I like the location and of course I like the air conditioning." said Randy Vause, chorus and ukulele teacher at NHIS.
Vause said, "I like that we can be in our own area to practice without disturbing people, we're not bothering anybody."
Students also feel much more comfortable in the new portables, "I'm more comfortable in the class because it's not hot." said Ryan Raquedan, 10th grader at NHIS.
With the positive things about the portables, there are also some challenges.
There are challenges of being in the portables such as problems with the internet connectivity,
Pilialoha said, "Teachers who were using those portables are actually down either in the library or the AC room because of the internet connectivity."
Other than that Pilialoha believes portables could change how the students learn.
"It does make a difference because the students are able to focus better in the classroom."