NHIS Robotics 2021-2022 Tournament Season Debut
The NHIS Robotics Teams have competed in their first competition of the season, "Tipping Point," at their very own school on November 21, 2021. 
All of the competitions were usually in person where it would be located at different schools hosted by the state multiple event partners before the Covid-19 Pandemic. 
"Last year everything was remote and only remote Skils, this year is a hybrid. We have Live Remote Competitions, Skills only (in-Person) and in-person competitions," stated the mentor of NHIS Robotics, Richard Enright.
Even with the different styles for this year's competition, it includes a wider range of elements than it had during the Covid-19 Pandemic. 
"Competitions typically consist of 2 elements the first is 2 robots competing against 2 robots, during qualification rounds your partners are determined by the computer.  Once qualification ends the top seeds get to pick their partners for the elimination rounds.  There also is a Skills only portion which is your robot against the field trying to score as many points as possible." Enright says. 
The first competition was a virtual live remote with 12 teams from around the island and Maui competing which included NHIS' 2459B, 2459C, and 2463A. 
Although it was a different type of competition for them, they adapted to the new changes and continued what they would usually do in competitions such as matches (without alliances) and judge's interviews. 
"Our first virtual live remote competition was very thrilling, there were issues during the competition, like technical problems. Things that were memorable were the matches, as every match was different, there were different strategies played, and anything could've happened," said 3rd year and 14-year old Daven Melchor.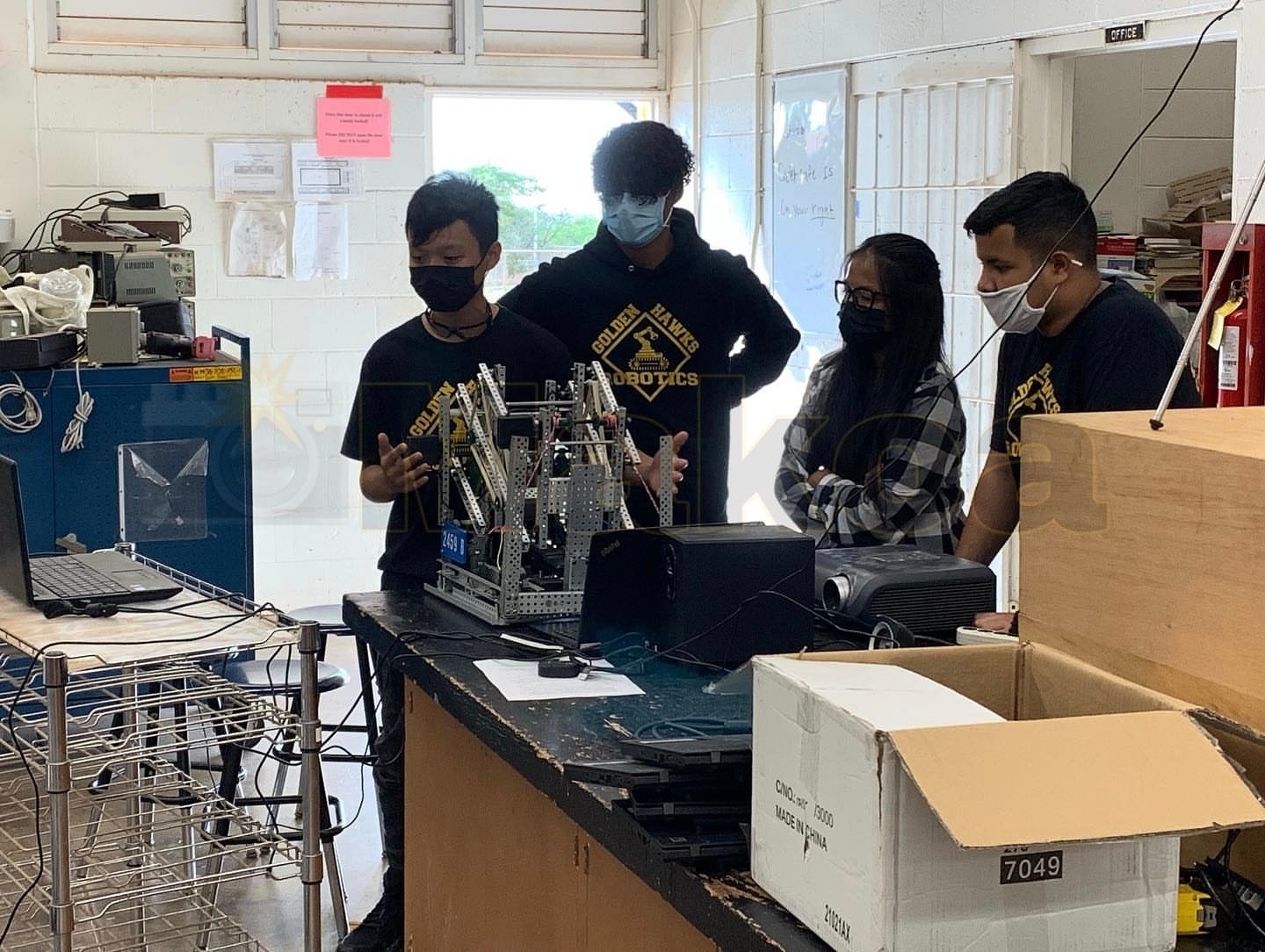 As the season progresses, there's usually a 1 or 2-week break in between competitions giving the teams time to do what they need to do and prepare for their upcoming competition. 
"During this competition season, it has been rough catching up with deadlines especially with new people in Robotics this year. With the 1-2 week breaks, it gives us time to fix problems that we have seen in our past competitions and whatnot. I feel like those breaks are nice and very helpful with teams." Says 4th year and 17-year old, Phreya Alyanna Costales. 
The Robotics team works every weekday from right after school until 5:00 P.M. to prepare and get a robot workable, drivable, and performable to compete in competitions that would last 8 hours typically. 
With that, 1 member from each team would keep a record of anything done during that day on a daily basis in their Engineering notebook which would be used to influence a judge's decision. 
"There are many code of conducts that are expected by the teams to follow such as behavior, interviews, having fun, meeting new people, and traveling," said Enright. 
So while teams are in competitions, they must be aware of their actions and perform as well as they can as judges will be the ones to decide who the awards will be given; interviews are a main element during competitions when participants want to be awarded. 
"There are multiple awards, but the two most important ones are excellence and design as they qualify you for States and Nationals," says Enright. 
2459C was awarded the Design award qualifying them for nationals in Iowa as well as 2459B ranking 2nd place and 2463A ranking 11th. 
NHIS will host the next competition at the Multi-Purpose Building at NHIS on Saturday, December 18th, and will be in person. Due to Covid, non-members/non-participants of VEX Robotics will not be allowed to enter the building.