What's the Buzz? NPAC's Jesus Christ Superstar Opens on March 29
On March 29, 30, 31 and April 5, 6, and 7 the Nanakuli High and Intermediate School Performing Arts Center will be putting on the musical Jesus Christ Superstar (JCS). JCS is a rock opera with music by Andrew Lloyd-Webber and lyrics by Tim Rice that recounts the last days of Jesus' life from the perspective of Judas Iscariot, his betrayer.
"It was a classic musical that was done in the 70's. Most recently, John Legend, Sarah Bareilles did a live version on NBC on Easter weekend. It's the 50th anniversary of the musical, they're doing a North American tour, and the music and the story are wonderful," said Director Robin Kitsu. "I choose which plays we do. I base it on the ability of the students, the number of students we have, and gender. For us to do something like Grease would be difficult because we don't have a lot of males. To do the Thunderbirds and the Pink Ladies, it's kind of hard. I also look at cost. When you're looking at the royalties, costumes, sets, how much it's going to cost, how much money we have, so we always kind of plan according to that."
Along with Kitsu directing the show, NPAC has assistance from Windward Community College Professor Alex Durrant who choreographed the show, as well as the NPAC staff who helps stage manage and make costumes.
"When I first did a workshop for NPAC last year, I was bowled over by a combination of the students' passion for learning and the culture of creativity, respect and family Mr.Kitsu has generated whilst also striving to get the very best out of every young person he comes into contact with. I felt a deep connection with these values and really wanted to work more with NPAC. Also, the students are a delight to work with," said Durrant. "I think the main goal for any choreographer is to create something that is exciting and engaging to watch whilst also ensuring it is appropriate for the nature of the piece.  I'm hypercritical of my own work so knowing if I've achieved that can be tough, but I'll know it when I see it." said Durant.
One of the biggest challenges that came along with doing JCS is the controversy due to the religious aspect of the show. However, NPAC has chosen not to promote the religious side of the show, but more of the artistic qualities and the story. Another challenge that arose because of the religious undertones was the shortage of cast members.
"We understand that it is a religious based play. We are not promoting it as a religion. We are just promoting it as a great story, great music, and a great opportunity for the students to share their acting, performing and dancing abilities," said Kitsu. "Part of the reason why our cast is small, there are some families who felt this was not appropriate for their children because of their religious beliefs.  They chose not to let their children participate in the show. They always have a choice," said Kitsu.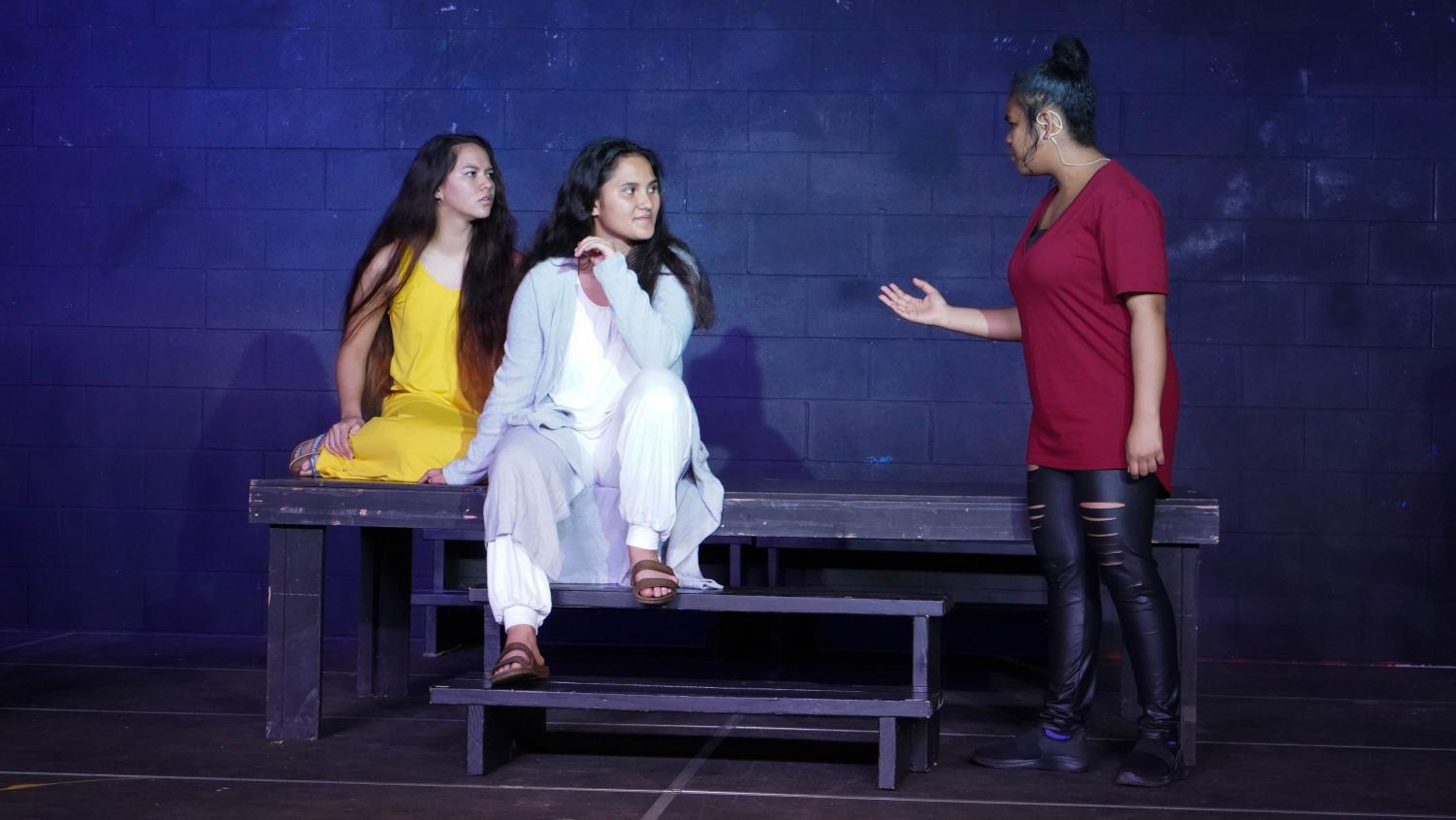 Some other challenges that the cast members have faced were trying to understand and become their characters —  getting into character was a process for many of them, taking months to fully develop the way they were going to portray them.
"I think it is in capturing the feeling of having to betray someone you loved very much and then throwing them out on the curb or under the bus. I have never done that to anybody. I try to listen to other people's stories, especially people who are older than me. When they talk to me about how they were thrown under the bus or they threw their friend under the bus before because of something. . . That's what I use as inspiration to create the feeling," said Sophomore Kaiolohia Beaver who plays Judas.
The cast features students from grades six to twelve — with a cast of only 17 students, this also served as another challenge. However, throughout months of practice both at home and at NPAC, the cast has been able to rise above the many challenges that they've faced.
"I've been impressed with this young cast in being able to tackle such mature characters and being able to pull it off well. I think what I saw in the beginning were students who were just trying to sing the songs with no real depth and understanding of the lyrics they were singing and now their performances have become much more real and emotional and you can see that there's this awareness of the conflicts that all of the characters have gone through," said Kitsu.
All performances for JCS will be at the NHIS Multi-Purpose Building. Performances on March 29, 30, April 5, and 6 will be at 7:00. Performances on March 31 and April 7 will be 3:00.