Fostering Ohana: NPACʻs Dragonfly production hits hard
The Nanakuli High and Intermediate School Performing Arts Center (NPAC) is fired up as their first production of the school year, "Dragonfly: A Young Girl's Journey Through Foster Care" opens on November 9.
"Dragonfly," tells the story of Tara from age 4 to young adult and her experiences through the foster care system in Hawaii. Along with Tara, other children and teens and families affected by foster care are introduced.
"It started two years ago. We were actually approached by Terri Madden from Playbuilders Hawai'i. They actually wrote this show based on interviews with foster families and social workers and based on the interviews, they created this play. Before they even performed this play, they approached us about possibly doing it on the West Side as we have the highest number of foster children," said Robin Kitsu NPAC director.
The cast is made up of students grades 4 to 12 from different schools.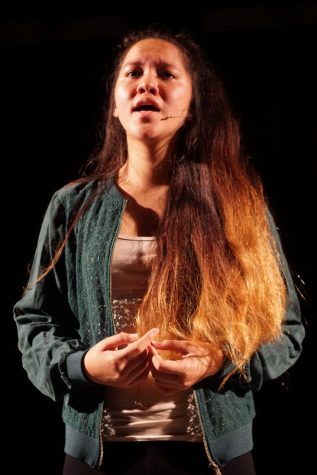 Aurora Slover a Senior from Wai'anae High School plays older Tara. "I play Tara and the story follows her and it really follows her journey through the foster care system. She is a pretty troubled girl. She did not have it good. . . It's really informational for people who don't know much about the foster system. It is an eye-opener,"
According to Kitsu, the hope is that the play will help educate audience members about the challenges and rewards about being in foster care both for the child and the foster parents. But Kitsu also believes that the play is powerful because all of the stories in the play are true.
"I believe that the play will make people very uncomfortable, to the point where they may even walk out, not because the performances are terrible or anything but because the performances are too real for them. They might have experienced it themselves or know somebody, and it hits too close to home, and it's hard for them to hear," said Kitsu.
But Kitsu said that the hope is after watching the play, audience members would consider becoming foster care parents.
Kitsu knew that by having the NPAC students perform "Dragonfly" that there would be many challenges.
"We have a very young cast, and for them to take on a script that is this mature and this heavy, I think it is a credit to them. . . I think the content for the young cast to have to understand and deal with something like this, is going to be tough because if you have never been abused how do you portray something like that?" said Kitsu.
Slover agreed that the play caused her to have difficulties.
"Out of the three years that I've been in NPAC, we haven't done a full play like this before. We have just done dramatic shows with short scenes or one acts. Especially with the content of this play, it is pretty mature content. We usually do happy-go-lucky stuff and this is really not like that. I think it was a challenge for us to change our type of mindset and really get into it."
While Kitsu feels some added pressure about doing this play, he feels confident that the young cast will be ready to take on the challenge.
"The play was already performed last year by Playbuilders Hawaii and also won numerous Poʻokela Awards (awards for local theatre performances). Added to that, many of the characters are based on real people who we believe will attend the show so it will be exciting to get some feedback after each performance," said Kitsu.
"Dragonfly: A Young Girl's Journey Through Foster Care" plays on November 9, 10, 15, 16, 17 at 7 pm and November 11, 18 at 3 pm. All performances are at the NHIS Multi-Purpose Cafe. For tickets or more information go to www.nhispac.com.