Hale Leaves Many to Wonder
When walking into NHIS in front of B building you will see what looks to be a structure made of wood. But what many do not know is what the structure symbolizes. It turns out that this structure will become a hale, an ancient house Hawaiians built and lived in.
Eric Matanane 7th grade middle school counselor said, "Its a traditional hale building, it's like how Hawaiians used to live and how they used to build their homes back in Kile Hawaii or ancient times."
There are many kinds of Hales that can be built—this hale is just one of the many different styles.
John Ezell 7th grade Social Studies teacher said, "This is a particular style of house that's been put up. It's an eight by ten, really small. It's going to be thatched with Loulu palms, which is the leaves from a loulu tree; its a native palm that lives in Hawaii."
One reason behind the structure being made is because Matanane is training to become a certified Hale builder.
Matananae said, "I'm going through a certification program with Kumu Kalani Senensi. I've been working on hales for the past maybe ten years just helping out and doing laulimas."
Matanane said, "The Kalaeloa Heritage Park Hale was the fastest Laulima on record for Kumu Francis so he thought I should be an Alaka'i. He thought I should actually start building on my own. That's what I'm trying to do. Through certification, if I build my own, then I'll be certified as a hale builder."
Ezell said "Well we built it to perpetuate our traditional hale building culture as a way of getting our kids hands dirty. They can be a part of a process that was done traditionally for thousands of years. Get together and build houses when they were needed."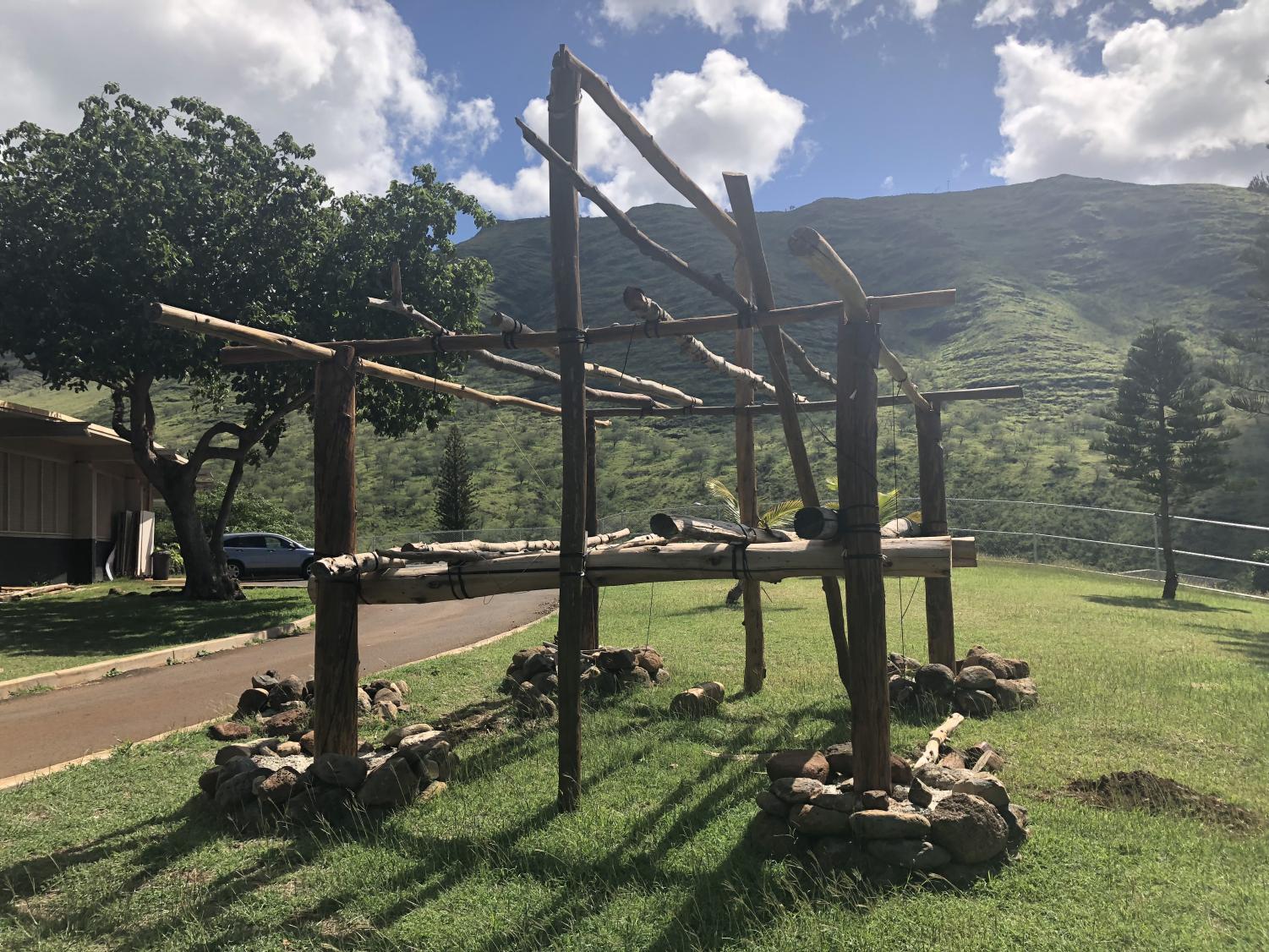 But Matanane has other goals for the Hale and NHIS.
"My goal for Nanakuli High and Intermediate is to build a twenty by forty. I wanted to train some students and some teachers to actually learn how to traditional lash. When we started to gather the wood for that one then we would have enough people to instead of pay others to come and help us we have our own lashing crew."
While building the Hale there were some challenges that came about.
Ezell said, "Some of the challenges was getting the materials for one, making sure the materials were not eaten by bugs, weatherproofing them was another. Sometimes the elements did a number on the leaves that we had prepared and hung to dry. Some of it was just coordinating when we were gonna build and getting everyone there, certain things like that."
The benefits of becoming a certified Hale builder is that Matanane will be building a Hale for students to start learning in.
"It would benefit Hawaiian kids in our school because 90% of our population at Nanakuli is of Hawaiian descent and if you actually step in a built Hale it actually feels like you're stepping into the past. As far as the classroom is concerned I mean what better way to teach them Olelo Hawaii, the language, what better way to teach the culture in a traditional setting," said Matanane.